Moving

There will be times when you need to move your unit to clean underneath it or retrieve an object. When moving the unit, it is important to first remove the power cord from the frame and wall outlet, so it is out of the way and doesn't get damaged.

Recumbent (figure 1) – Grasp the rear stabilizer then lift onto the transport wheels located on the front of the bike.
Upright (figure 2) - Firmly grasp the handlebars and tilt the bike on the front transport wheels. DO NOT grasp the console when moving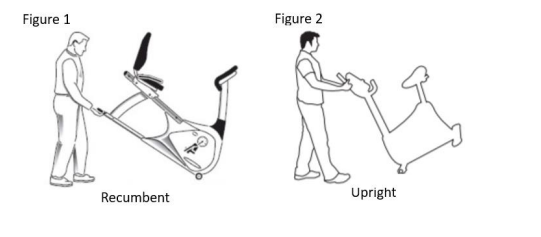 Leveling

Locate the leveling feet on the bottom of your bike. It is important to start with the leveling feet all the way up (turn clockwise). Once the unit is in its desired location, if the unit is not level, adjust the leveling feet by turning counterclockwise. Tighten the jam nut or locking mechanism on the leveling feet with an
adjustable wrench. Some models have a top-down leveling system, meaning you can use a 6mm Allen key to turn the leveling feet down without tipping the unit on its side.