IMPORTANT: Check the Owner's Manual to see if your treadmill has a silicone running deck/belt or a waxed running deck/belt. Waxed decks/belts are considered maintenance free meaning nothing should ever be applied/added to the deck or belt for its life.

To ensure optimal long-term performance of your treadmill, the belt and deck must be lubricated periodically. Lack of lubrication causes friction and can lead to premature failure of the belt, deck, motor, or electronics. It is recommended to lubricate the deck every 150 miles (241 km) or every 3 months. This can change depending on many factors such as usage, age of the machine, and environmental conditions, among others. A simple inspection of the deck and belt surfaces can be performed to identify if the deck/belt needs to be lubricated.


Procedure 1 – using the bottle of silicone that comes with the treadmill

This procedure requires you to loosen the running belt. Although you can lubricate the deck/belt this way, it is important to make sure to re-tension and align the belt. Procedure 1 does not require you to loosen the belt and is the preferred method and requires fewer steps to perform.

Required supplies:
Power down the treadmill and unplug the power cord from the outlet.
Using the t-handle wrench or socket, loosen the rear roller bolts until the running belt can be lifted enough to expose the center of the deck.
Lift up on the belt as far as you can and apply the silicone in a zig-zag pattern across the entire running deck surface. Use 20ml per application. An additional 10ml could be added if needed but never use more than 30ml at one time.
Plug the power cord into the outlet and power on
Walk on the unit at a comfortable speed for 3 minutes to spread the silicone.
a. If you notice the belt not centered or tensioned properly, please go back to Step 5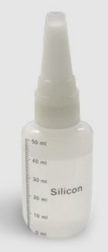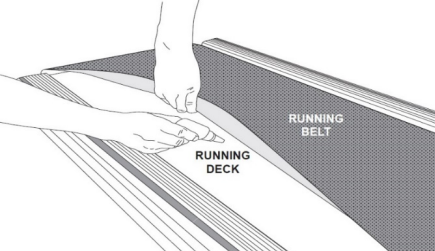 Power down the treadmill and unplug the power cord from the outlet.
Silicone applicator - Fill the applicator with 10ml of silicone.
Lift the running belt from the side in the front middle of the belt. Insert the applicator under the running belt. Press the syringe while moving the applicator towards the rear roller until all 10ml is applied.
Stand on the running belt and walk so the other half of the belt is on the top.
Repeat steps 2-3.
Plug the power cord into the outlet and power on
Run the treadmill for 3 minutes without walking on it.
After 3 minutes, get the treadmill to a comfortable walking speed and walk on it for another 3 minutes to spread the silicone.
a. If you notice the belt not centered or tensioned properly, please see Running Belt Adjustments