1). Disconnect all entertainment hookups, power cords, and adapters. Please store them in a safe place.
2). Ensure unit remains in the upright position when transporting.
3). Measure. You may need to remove doors and jambs if you are moving it out of the room in which it was assembled.
4). If your unit is too wide to fit through a doorframe once assembled, you may locate the manual to disassemble the handrails and pedals and make it easier for transit and movement. Please store screws and other small parts in a safe place.
https://www.horizonfitness.com/support/product-support/manuals
https://www.horizonfitness.ca/support/product-support/manuals
5). Carefully pack your unit for transit by covering it with cushioning material to prevent damage.
6). Our units are heavy; use care and additional help, if necessary, when moving. You may use a furniture dolly to prevent back strain or injury.
7). Use straps or zip ties to secure the arms and legs to prevent them from moving and to prevent tipping. Failure to follow these instructions could result in injury.
8). If you are moving your elliptical a short distance you may tilt the unit from the back using the integrated stabilizer tube on a cushioned surface to prevent floor damage.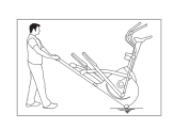 9). Safe Travels!