If the treadmill belt does not move or moves briefly, but the console works, verify the following:
Make sure you are following the recommendations and power guidelines on pages 4 and 5 of this treadmill guide. The unit should be on a dedicated 15-amp circuit and not on a GFCI-equipped outlet. Do not plug the machine into a power strip/surge protector or extension cord.
Check for any belt movement. If so, make note of how far or how long it moves before stopping.
Try to move the belt by hand. If not, the drive belt may have come off or the motor bearings may have seized.
Turn the treadmill off and unplug it from the outlet. Remove the plastic motor cover located in front of the machine by taking out the Phillips screws. Check the drive belt for proper alignment.
With the cover still off, check over the wire and cable connections, as they may have become loose or disconnected during shipping or assembly. Make sure connections are secure and no wires are crimped, damaged, disconnected or burnt.
For a video on T101 Communication Cable Inspection, click here.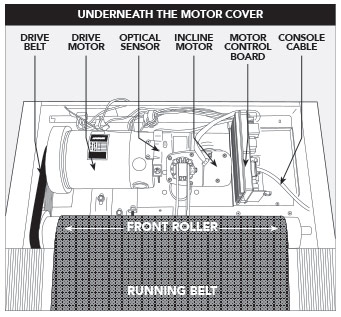 If the running belt does not stay centered during a workout, verify the following: